Friday Grab Bag: Adapting a Module for Solo Play, Free Stuff, and Wormskin
Playing a Module in Solo Mode
Chris Stieha, the man behind the RND zine, posted some interesting links at G+.
My favorite is the last one. This is a general overview and something I wish I'd known when I got started. How come I have missed this gem? There is still lots of material that I can use as an "advanced" solo role-player.
Free Swag
The Nightmares Underneath Free Edition is an OSR horror game by Johnstone Metzger (Red Box Vancouver). Get a free dungeon, too. Anders H. has a one page summary for D&D 5e. White Star, the Swords & Wizardry WhiteBox sci-fi version, is PWYW. The White Star Companion, too. Why? Because the OSR community came up with the funds to send James Spahn to North Texas RPG CON. One of his games is up for a reward there. The new beta file for Open Adventure is available. It is a free game which includes fantasy and sci-fi genre packs. The aim is to preserve the old school spirit but pair it with modern rules. I haven't read the game but I like the base mechanism.
With the d6-d6 system, two six-sided dice are rolled in such a way that their rolls oppose one another. You can think of one of the dice as a positive number, and the other as a negative number. Possible outcomes range from -5 to +5, with a statistical bias towards a roll of 0.
Reading
My Wormskin copies arrived and I've been pouring through this OSR setting.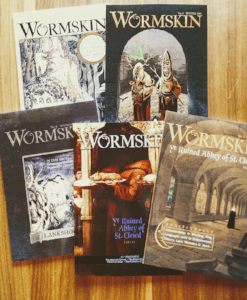 Wormskin explores the mythic forest called Dolmenwood, a weird folklore setting for use with B/X or similar tabletop adventure games. Each issue uncovers various elements of this eldritch realm situated on the leafy verges of Fairy, where austere Drunes rub elbows with weird elf-lords and talking beasts, where witches wander skyclad and armed with sinister magicks to bind the spirits of hapless adventurers. Be wary.
I think about playing it solo with Maze Rats. The author, Ben Milton, shows a crawl of The Ruined Abbey of Saint Clewd (Wormskin issue 3 and 4) on youtube. He also offers a video review of the first Wormskin issues.
Game Mastering
Check the D&D Fluid Fundamentals post for a neat way to introduce new players to the hobby. And get some game mastering tips for grognards, too.
---
Some links above are affiliate links. Thank you for reading my blog!
---